Our Project Division was formed in 2007. The majority of us are talents from Central South University of Forestry and Technology, Nanjing Forestry University and Northwest Agriculture and Forestry University.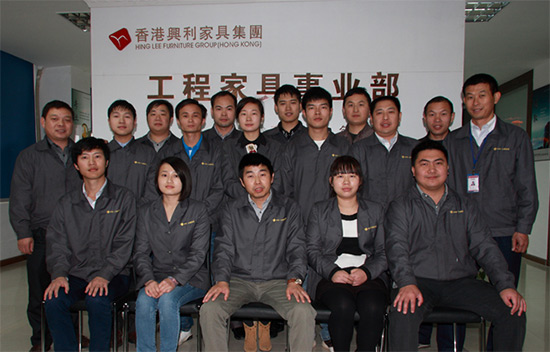 During the past seven years, we have established cooperative relations with famous organizations like China State Construction (601668.SZ), ODEC, China Vanke Co., Ltd (000002.SZ), Yanlord Property, Weyie Decoration, Shenzhen Building and Decoration Group,, Financial Street (000402.SZ) and Shenzhez Hongtao (002325.SZ) etc. Completed projects included Haishang Bay Resort located in Huidong, 榮正財富廣場located in Zhejiang Tonglu, Radisson Blu Hotel Kashga as well as萬科森林度假公園at Sanya City, Hainan etc. Our team has a responsible attitude; work closely with customers to win their praise. We believe "Hing Lee Project Division" is the customer trust.

Business areas:
(A) Product Range:
Full range of motion furniture, wood finishes, all types of fixed cabinets, doors and door pockets, various types of wire, soft furnishings installed products;
(B) Services:
Site survey, detailed design, production and processing, on-site installation, and post-maintenance;
(C) Working locations:
Hotels, clubs, sample room, deluxe room and villa
Working location of furnishings business:
Sample rooms residential, high-star hotels, villas, clubs and office
Furnishings business services included:
1, Design and installation: Interior design + products made + furnishings + transportation and installation;
2, Design Services: Interior design + designers on-site visit and guidance;
3, Furnishing advisory: Furniture design + materials suggestion + suggested list of decorators
4, Decoration products supply: Supply of various furniture, lighting, bedding, curtains and paintings etc.